Welcome to Shiro Sushi & Yakitoriya Great Barrington ...About Us
The Japanese believe that food should satisfy all the senses. Food is always prepared with great care and beautifully presented: Sometimes very simply, and sometimes in an intricate array. The freshest ingredients are combined in ways that delight the eyes as well as the taste buds.
For an enjoyable dining experience with family and friends, come to Shiro Sushi & Yakitoriya restaurant, located on Route 7 in Great Barrington and a short ride from Pittsfield, Lenox and Stockbridge, as well as all the local hotels.
Love Sushi? Come to Shiro for the freshest fish in Berkshire County. There are many special rolls that are available only at Shiro. Enjoy Yakitori and Ramen? Then a visit to Shiro's is a must!
There's also a wide variety of appetizers and dinner entrees prepared by our head chef in the kitchen. New to Japanese food? Let your server suggest one of our many frshly prepared dishes. You'll want to return time after time to enjoy all the delicious flavors and dishes.
Celebrating a birthday?....Enjoy a fried ice cream, compliments of Harry Yu, proprietor.
Shiro is the only Japanese restaurant in Berkshire County that offers all three styles of Japanese cooking. Come to Shiro Sushi & Yakitoriya! You'll be glad you did!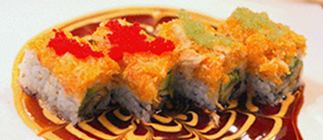 Shiro Sushi & Yakitoriya
105 Stockbridge Road
Great Barrington, MA
413-528-1898
Reservations
Accepted
413-528-1898